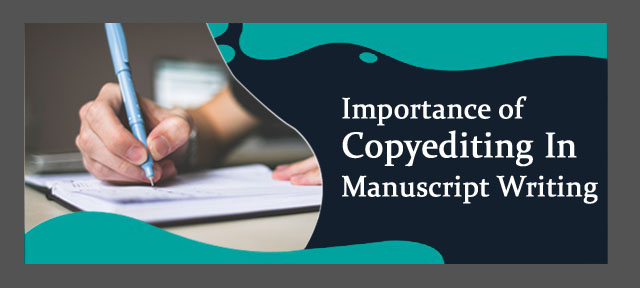 What Is Copyediting?
Copyediting is a process that ensures text in terms of spelling, grammar, jargon, punctuation, terminology, and formatting before it is prepared for Proofreading. It enhances the readability in Manuscript Writing. Copy editors make sure the writing style is consistent and the text moves smoothly from one sentence to the next. They also proofread the work for spelling, punctuation, and consistency, as well as making suggestions about how to better express the writer's message.

Why Copy Editing is done?
To find and solve any issues in the Manuscript before Publishing
 What Skills are needed for copy editing?
Copy editors require several skills such as
Excellent command of the language
An ability to identify factual errors
Critical thinking skills
Interpersonal skills to communicate effectively with publishers and other editors.
What Does a Copy Editor Do?
Highlight and suggest corrections to grammatical errors
Correct any typos which would include misspelled words.
Eliminate superfluous sentences & tighten phrasing.
Format the Manuscript before Printing.
Conduct a modest fact check.
Involved in Research.
Making the Manuscript the best it can be (clear and consistent text).
Conveys the intended meaning of the text to the Audience.
Do rewriting, paraphrasing.
Focuses on Technical Content, accuracy, consistency, grammatical errors, syntax, punctuation.
Ensure the basic mechanics of writing are correct.
Serve the needs of the Authors, the Publishers, and the readers.
Types of Copyediting
Basic Copyediting
Correcting faulty spelling, grammar & punctuation.
Correcting incorrect usage of words.
Checking specific cross-references.
Ensure the spelling, hyphenation, numerals, fonts, and capitalization are all consistent.
Checking for proper sequencing.
Recording the first references to figures, tables, and other elements.
Medium Copyediting
Changing headlines and text to achieve parallel structure.
Flagging inappropriate figures of speech.
Ensuring that key terms are handled consistently.
Ensuring the summary, preview.
Enforcing consistent style and tone in the multi-author manuscript.
Changing passive voice to active voice if required.
Substantive Editing
Eliminating inappropriate jargons
Smoothing transitions to improve readability.
Giving a good logical structure.
Suggestions for additions and deletions, which are often implemented and noted at the sentence and paragraph levels.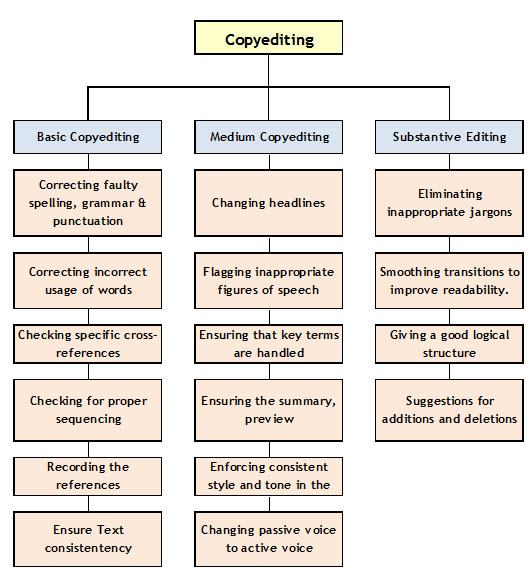 While editing the job, a Copyeditor asks himself the following questions.
Is the main concept articulated clearly and succinctly?
What are the extraneous phrases, sentences, or parts of the writing?
Will your introduction entice readers to keep reading?
Is the text's progression well-organized?
Is it easy to read?
Are the tone and style the same in the piece?
Is the last thought powerful?
 What is the process of copyediting?
Define your function.
Perform an initial read-through of the document.
Reread it and make a strategy.
Go down each line one by one.
The text should be formatted.
Do a final read-through.
 Conclusion
The five 'C's of Copyediting includes
Clear
Correct
Conscious
Comprehensive
Consistent
Before the Manuscript is published, it should be processed in the Medical Manuscript editing service to get a valuable Manuscript.
Views : 1036