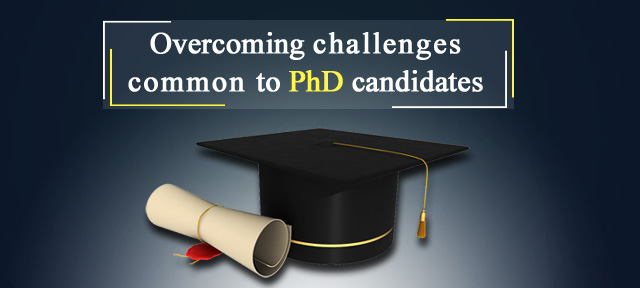 A PhD is the utmost academic degree a student can accomplish, representing a significant contribution to the selected area of study. Basically, this includes generating innovative knowledge or utilizing an existing one in a novel approach. A PhD means carrying out research no one has ever done in order to answer questions no one has ever answered. Pursuing a PhD is an extremely daunting job.
The basic instructions for a PhD candidate are to obtain and appreciate a substantial body of knowledge of their area of interest, conceptualize, produce and implement a project to create novel knowledge or any existing knowledge, build or understand novel knowledge, typically by original research and successful publication of the manuscript, form a detailed understanding of methods for research.

Below certain major and the most general complications that a PhD student encounters in the 3-4 years, of course, are discussed:
Loneliness
The feeling of quarantine is one of the biggest problems for a PhD student. They regularly do the work single-handedly, having no other individuals or project fellow members. Probably, this is the main reason for the aloneness, lack of motivation, and the fear that no one appreciates, or can relate to the complications they are going through.
To overcome, it is worthwhile to make contact with other graduate pupils. The journal clubs, conferences, or networking will definitely assist the PhD candidate to overcome this problem. This will help to communicate and improve the disturbing and adverse moods. Merely splitting the boredom life can benefit greatly!
Stress
Pursuing a doctorate can be highly nerve-wracking. To overcome this stressful life, below are the points that should be followed:
Seeking positive feedback
Acknowledging your achievements so far
Taking stock of your competencies
Trying out new things
Financial issues
Funding can be insecure at times. A number of PhD scholars depend on their parents or friends financially, which is tremendously worrying and traumatic to secure new funding. Preferably, the research supervisors should be available to support with this. However, to overcome this problem it is advised that scholars should secure themselves financially in case of crisis.
Poor time management
It is better to perform fewer things in a perfect manner than numerous things with full of mistakes. A proper timetable should be prepared and followed strictly by the PhD candidate to avoid half-finished tasks management. This will help the candidates to be more organized and professional in their work field.
Finally, a PhD candidate should find out all the gaps and explore all options and opportunities.
Views : 1572