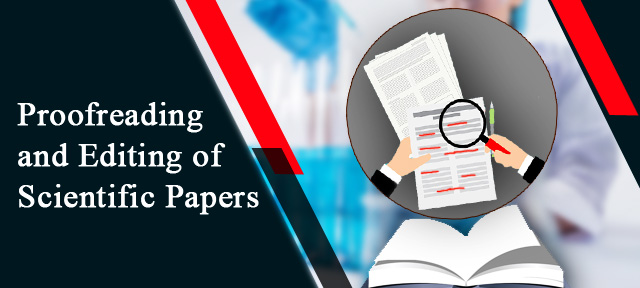 An integral part of the quality and hygiene check for any scientific research paper writing is editing and proof-reading of the manuscript before submission. While an author may take utmost care while writing their manuscripts, one must always undertake both exercises to ensure proper quality of content.
Today, professional manuscript publication support services offer different packages for manuscript proofreading services and manuscript editing services. However, many times authors are at a loss to understand which services they require or should subscribe to, or whether they should at all subscribe to any third-party services.
Here are a few pointers on how to determine your next course of action.
Difference between Editing and Proof-reading
Many authors fail to make a distinction between editing and proof-reading and these terms are often interchangeably used. Editing is a more holistic review of your paper, where the editor will look into how the information is being presented, whether there are any logical flaws in the arguments, whether the flow of the paragraphs makes coherent sense, whether the data work is reported in the proper manner. Professional manuscript editing services offer the service of subject experts who are well-equipped to give expert opinions on your manuscript as a peer.
Proof-reading is often considered the last step before submission and is basically a hygiene check of the manuscript. At this stage, you look for superficial errors in spelling or grammar, whether consistency is being maintained in abbreviations or referencing, etc. Proof-reading is also a critical check to ensure the manuscript follows all the author guidelines of the journal to which it is being submitted.
Today, professional manuscript editing services offer experts specializing in proofreading and copy-editing who can pick up anomalies much better than the rest. Moreover, many of these experts specialize in journal-specific publications and are much more aware of the author guidelines of these journals. Therefore, they can correct your article more efficiently.
Which services do you require?
Authors often confuse between editing and proofreading and fail to take correct calls when they decide on engaging manuscript publication support services. Some authors think they only need proof-reading services as they are confident about their subject expertise when it comes to editing.
However, many often fail to understand that editing is not just about subject expertise, but is often about a critical third-person perspective. As authors, we are often too deeply involved in the research and fail to take into account how a third-party reader would perceive what we have written. Subject expert editors help give this crucial perspective and are often help ease many issues that would otherwise be picked up by the editorial board of the journal and perhaps the manuscript would get rejected.
Therefore, it is advisable to engage in comprehensive scientific research services that help you at every stage of drafting. Such services specialize in journal publications and are a friend who can guide you at every stage of the publication.
Views : 564