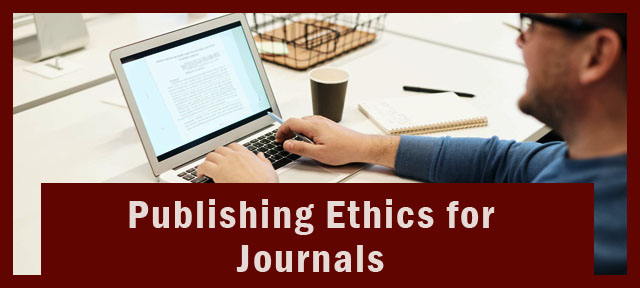 Publication Ethics represents a set of guild lines that is implemented on all the parties, involved in the activity of publication. The latter consists of the editor, author, peer reviewer, publisher, and the society associated with the journals. Ethical standards are the code of conduct and the appropriate practices which govern the publication process against any misconduct and improper behavior.
Importance of Ethics in the publication process
It helps in the enrichment of professional work ethic in a conducive environment. Non-abiding of ethics can cost heavily on your honor as a researcher and also is enough to end the career. Failing to maintain the ethical standards not only significantly impacts the author per se but also has a negative impact on your research institute and on the viewpoint of the public toward science and other subjects.
Regulating Bodies for publication Ethics
COPE( Committee of publication ethics)
It is an internationally recognized platform designed for editors and publishers of various meticulous journals in order to give insights on the appropriate code of conduct so that ethical practices become an integral and normal part of the publication.
The Publishing Ethics Resource Kit (PERK)
It is created by Elsevier as an online forum to assist editors in handling various allegations.
Various aspects governed by Publication Ethics:
Plagiarism: It refers to copying the content of someone else with giving it due to acknowledgment. Generally, it refers to citing published content as one's own creation. It is an offense and nowadays there are various online tools to detect plagiarism.
Image Manipulation: As the figures or images are the hearts of a manuscript by strengthening the hypothesis or idea of the author. They are the supportive evidence validating one's scientific achievement. The images submitted to the journal should be minimally processed so that it only highlights the content and should not be misleading. However, on the zest of publishing authors sometimes highlight pictorial content which can be just background noise or a non-significant finding.
Authorship Rights: The author is someone who has given significant intellectual inputs in the manuscript. The author list should be ethical and based on the contribution and also the authorship disputes should be handled in a judicial manner.
Conclusion: Publication ethics have guidelines to handle various integral aspects of efficient publishing such as Plagiarism check, image manipulation detection, and also disputes pertaining to author rights and copyright issues. The aim of the ethical guidelines is to provide a fair and authenticate piece of work to the reader wherein the faith in data acquisition till result presentation is retained to provide an informative insight of the scientific world.