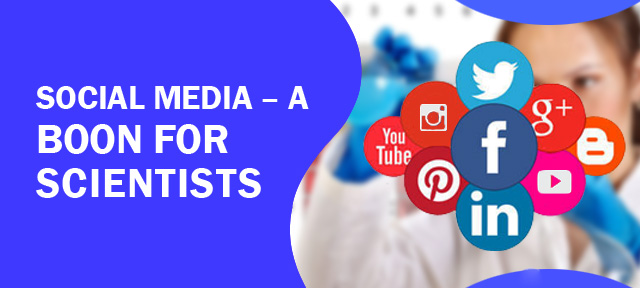 Social media is a powerful tool for science communication. It allows scientists worldwide to interact with each other; get updated with new research tools; research findings, etc.; receive feedback on research works almost immediately; and find new associates or collaborators. Social media gives scientists the opportunity to follow their preferred fellow scientists, science societies, laboratories, journals, etc. It also allows scientists to get updates related to new discoveries and inventions; events such as conferences, seminars, etc.; and discussions. Presence in social media can provide many opportunities, will improve the scope of exposure, and help create an impact beyond scientific circles.
Currently, social media platforms such as Facebook, LinkedIn, Twitter, etc. are available that can be used by scientists for science communication. However, Twitter is the most preferred platform as it offers numerous benefits to scientists. Twitter facilitates the sharing of research findings with different scientists worldwide and also gives the opportunity to share research findings published by others. It allows scientists to connect with other scientists, locally and globally. This social media platform increases the visibility of research papers and helps improve the citation of research works. It facilitates networking and communication/discussion with peers. Twitter helps connect scientists with potential collaborators for future research works. It provides the latest news in scientific disciplines and updates on articles published by preferred journals. It also allows connecting with conferences or other events using hashtags.

Scientists can follow anyone without having to ask for permission and easily pursue topics using keywords or hashtags using this platform. Twitter also helps to maintain different lists of key accounts as per the requirement and allows to block or mute undesirable accounts while hiding them from daily feeds. Important tweets can be sent at different times to different people without being perceived as duplicates. In addition, accessing Twitter on smartphones is quick and easy. It facilitates the joining of scheduled and hashtagged discussions on specific topics with other scientists. Twitter establishes the online presence of scientists in different searches. It teaches scientists to make clear and precise communication within the limit of 140 characters and allows them to communicate science to a wide variety of audiences, including the lay public.
However, the rate of scientific users on Twitter is increasing at a slow pace due to issues as mentioned below:
Fear of making errors often deters scientists from optimally using social media platforms.
Lack of time to spend on social media platforms due to prior engagements or research-related commitments.
Lack of proper knowledge of how to use the different options in Twitter.
Lack of clarity regarding the benefits of using Twitter.
Views : 851