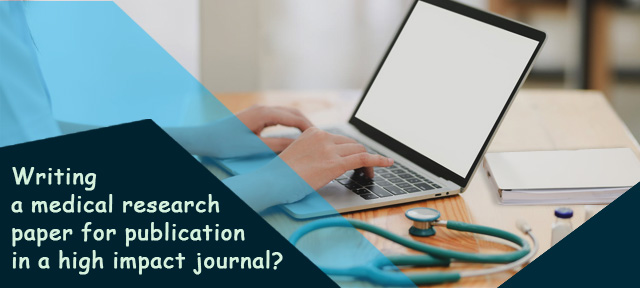 Publishing medical research papers in high impact factor journals are the criteria of one's profession today. However, it is challenging as statistics suggest less than 10% of all the articles submitted to high impact factor journals finally get published. This is because (i) the number of submissions received by any journal with high impact factor is staggeringly high and (ii) such journals maintain very high standards of publication to retain their status.
Tips for success:

Ensure your work offers something novel and interesting to the reader. A researcher has to be well versed with the latest developments in one's field of medical research and updated on the cutting-edge researches presently ongoing. The researcher must offer a new perspective, or contribute to some hot topic of the times, or simply offer path-breaking medical research to make an impact.
Any good medical research worth publishing in a high impact factor journal needs to be backed by potential data work. This means the methods/ measurements are reliable and validated, the findings verified by appropriate analysis, and their significance is verified. The scope and limitations of the methods or the entire exercise also need to be clearly stated at the onset for full clarity and transparency.
Once the core medical research work is set, it is very important to decide what type of publication a researcher would like to make. Depending on the scope of one's work, a researcher must decide between a full-length methodology research article, letters/Short Rapid Communications, Case studies, or Review papers. The choice of publication is extremely critical as any high impact factor journal is very specific about the quality of each type of such publication. Not every researcher can hope to get a full research article published in such journals and hence it may be wise to go for letter or case studies.
Every publication must have a proper structure. There needs to be a clear and crisp title, a short abstract giving full overview, an introduction, literature survey, methodology, data reporting, inferences, and a final conclusion. A researcher must provide proper referencing, labeling of graphs charts and diagrams, and follow all formatting norms as prescribed by the journal.
The submission must be accompanied by an informative covering letter. The covering letter is critical as the journal editors of high impact factor journals often scan submissions on the basis of just the cover letter. The covering letter must have the following:
A section highlighting the importance of the topic
Explain the significance of the results to the field
Mention if it adds on to previous work
Provide reasons for choosing the particular journal
Explain why you think readers will like it.
Conclusion
Getting published in a journal with a high impact factor not only depends on the quality of medical research but also depends on the writing and presentation skills of the researcher. As a researcher, you need to develop both skills to get published in journals with a high impact factor.
Views : 728