AI as good as clinicians in diagnostics, says study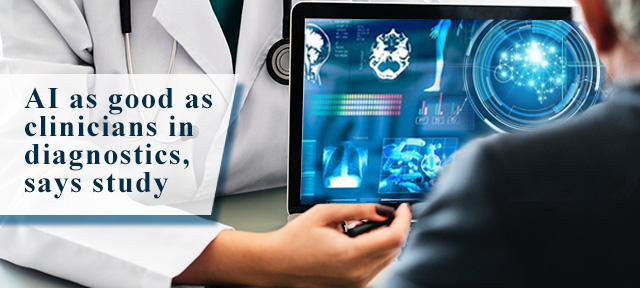 Artificial Intelligence or AI is an adaptive and evolving technology today and every industry wants to be a part of it and so is the case for medical science sector. According to a review of 82 articles published in The Lancet Digital Health journal, AI uses medical imaging to detect a condition as is as proficient as human clinicians.
Another smaller study suggests that AI indeed performed better than human clinicians and accurately detected a disease by 87%. According to Healthcare Drive's update on this topic "AI and healthcare professionals had similar rates of identifying healthy medical images, at 93% and 91% accuracy, respectively." These studies vary depending on their focus group. The lack of certainty still prevails.
Reference Link: https://www.healthcaredive.com/news/ai-just-as-effective-as-clinicians-in-diagnostics-study-suggests/563605/