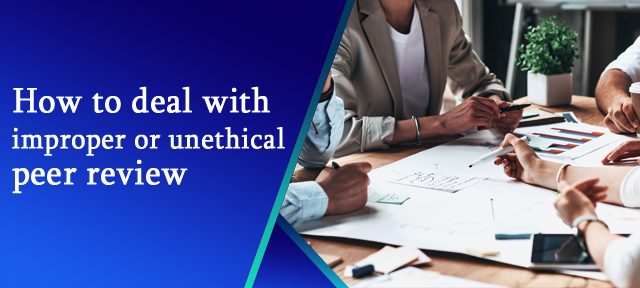 Peer review is an integral component of a successful writing journey. The competency of reviewers is a crucial indicator of the overall quality of work. Peer review has now become a universal phenomenon irrespective of the publication house. Publication houses do internal monitoring of their peer review process to improvise themselves.
An important aspect of peer review that shed light on the entire process can be

The evolution of the total number of papers that were subjected to desktop rejection in comparison to those that underwent the review process is an important measure of the review process. Along with the total round of review an article was subjected and the length of the report and details regarding the outcome of the submission.
The Committee on Publishing Ethical COPE
It consists of guidelines and practices which the journal and publisher should follow. It contains examples of cases with advice, and educational materials to assist in ethical publication. It sets standards for writers, reviewers, publishers, editors. It consists of reporting any misconduct, conflict of interest, ethical approval, plagiarism, author contribution, and data availability and resource sharing.
Breach in the peer-review process. It can be caused by alternation in the following attributes
Righteousness: It is caused if the reviewer does not address any conflict of interest before the review process is initiated.
Concealment: If the reviewer shares the review report with anyone other than the editor of the concerned journal, it results in a breach of confidentiality.
Impartiality: Author details should not influence the reviewer.
Lack of expertise: If the reviewer has no expertise on the content of the manuscript.
Efficacy: If the reviewer does not provide context-appropriate suggestions for improvisation prior to the due date.
Security: Using the author's work after rejecting it and for publishing in own name.
Transparency: Not abiding with the standards of the journals and hiding the rejection or acceptance from the author.
Handling unethical peer review
An author can remain calm and handle the matter with secrecy.
Maintenance of records of conversation as evidence to proof for the breach in the peer review process
Raising the matter within due course of time with the reviewer.
Writing to the editor regarding the setback in a detailed manner and providing the recorded evidence and requesting early action.
The course of action if a reviewer is found guilty:
The editor and author can write to the reviewer's institution for assessment of the track record of the reviewer.
The reviewer can be removed from the journal and this can result in blacklisting of the reviewer in other journals also.
Views : 458