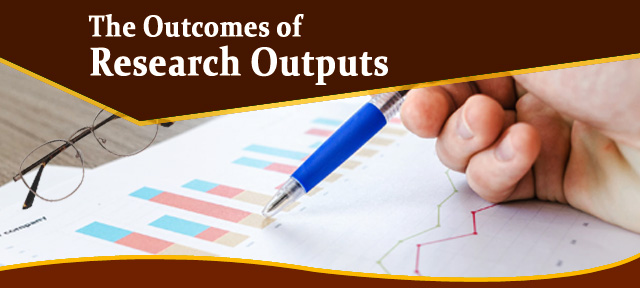 What is a Research Output?
The dissemination, publication, presentation, communication by which research is made available to individuals other than the author is known as a research output.
What are the types of Research Outputs?
Traditional and non-traditional research outputs are considered significant measures in assessing a country's scientific and technological progress.
Traditional research outputs
Patents
Publications and Books
Original Research Articles
Peer Review Articles
Case Studies
Reports
Article in a Newspaper or Magazine
Blogs
Datasets
Chapters
Non Traditional research outputs
Visual artworks
Recorded creative works
Public exhibitions and events
Conference Presentations
Interviews
Digital Scholarship
How to determine the quality of Research Output?
Bibliometrics is used to determine the quality of Research Output.
Why Bibliometrics is used?
To Analyse your Publication citation.
To measure h-index.
To Calculate research impact factors.
To Find topics to publish.
To Search for Potential Collaborators.
How to Enhance the impact of your research outputs?
Publishers can follow these steps:
Prepare for Publication
Select the appropriate publication venue.
Focus your efforts on the most widely read and quoted publications in your field.
Increase your visibility
Write a clear and short abstract to explain the study and significant findings.
Disseminate Your Research Outputs
Promote your research outputs (such as articles, books, reviews)
Ensure that they are easily discovered by others who might want to comment, cite, or write about them. Ensure that your study is seen by a wide range of people after months or years of hard effort.
Present your findings at conferences to get more collaboration opportunities.
Monitor Your Results 
After promoting your article, monitor the discoverability and reach of your research.
How to support the infrastructure of the Research Output in the Future?
The requirement for data knowledge, both within and outside the research community, as well as developing a culture of openness and transparency throughout all stages of the research process, is linked to these technological solutions.
By providing unique IDs for outputs to enable consistent identification and referencing
In terms of output discoverability, AI could be a component of the solution.
A more proactive approach could aid research in advancing best practices in information storage, sharing, and communication
Continued discussion and exchange of viewpoints on this subject are necessary to ensure that these issues are appropriately and fully addressed.
Conclusion
Solving a problem, acquiring new facts, or providing information to illustrate a problem is all part of the research. It's all about curiosity and the ability to look at situations from multiple perspectives.
Research Outputs promote economic growth, it should be measured not just by the number of publications but also by the impact of research outputs on improving quality of life through policy formation. Encouragement of research collaboration as well as financial incentives for publishing in reputable publications rather than predatory journals will stimulate translational research outputs.