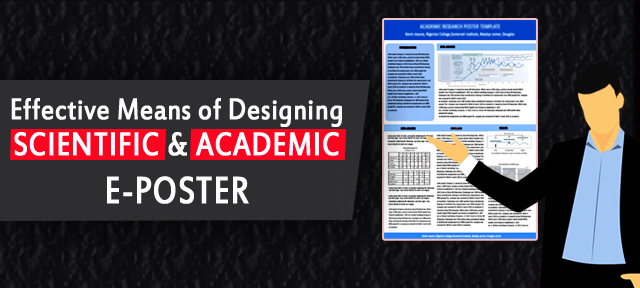 What is E-poster?
One of the main ways to share knowledge for Scientists is E-poster. E-posters are the visually pleasing illustration of Research made available to the Attention of the Audience in the Academic Conference. E-posters helps you to share your Research Findings with the scientific community and obtaining feedback from Faculty & Peers.
Parts & Sequence of e-Poster
Generally, e-Posters consist of the following Blocks:
The title plays a major role which decides whether the audience should see the poster or not.
Authors & Affiliations include the Author name.
The Introduction & Goals should be brief with illustrations and highlight major findings.
Methodologyuse graphs & charts
Result include figures or tables, less text.
The Conclusion should be Clear with accurate data, summarize the original findings.
Future Work, Acknowledgements & References are Optional Works.
Depending on the Conference Guidelines, Abstracts can be kept.
General e-Poster Layout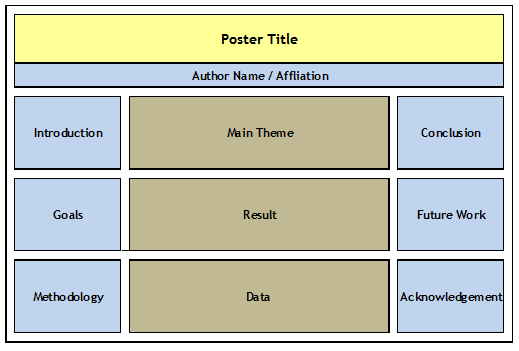 How to create an effective e- Poster for Academic Conference?
Audience (To whom is the e-Poster mainly focused?)
Register for the Conference.
Prepare Slides for an e-Poster presentation.
Go through Sample e-Poster templates to present in a better way.
Plan an e-power point presentation if asked.
Submit the e-Poster before the deadline.
Date & Time will be communicated through the mail by Conference People.
Be ready to answer questions asked by the Panel Members.
Best e-Poster formatting (How your e-Poster stand out from the rest?)
Clear Take Away Message 
Content should be given in the form of Key Points.
The clarity of the content should be clear enough that it is self-explanatory.
The content should be easy and interesting to read.
The Text and Font should be visible.
Too much text & Complicated Graphs should not be used.
Real Finding in Plain Language 
Emphasize the important words. Avoid too many experiments.
Blank Space
Maintaining space between Rows and columns is very important.
Theme Colours 
Green for Empirical Study, Blue for Theory, Red for Methods, Yellow – Most attention-getting colour- Intervention Study.
Ammo Bar
The column on one side of the Poster for miscellaneous figures.
QR Code
The audience can get more information related to the paper presentation. This is highly recommended in the Poster Preparation Service.
Software for creating e-Posters
Use Microsoft Publisher or PowerPoint Presentation (Effectively use Zoom option & Audio Narration which enriches the Poster Viewing experience).
Use interactive media such as mp4 videos, animations, video links to enrich the Presentation.
Export the slide as Pdf
File Size should be noted when submitting the e-Poster.
Conclusion
The goal of the E-poster is similar to the printed version in that the information should be in a Succinct way.
Effective E-Poster Creation can be outlined as follows:
Maximize the Amount of Insight.
Keep the Good Stuff – Illustration 80%; Text 20%.
Make it Simple & Easy – Skim easily.
Give a slight deviation from the general layout so that the audience will be overwhelmed.