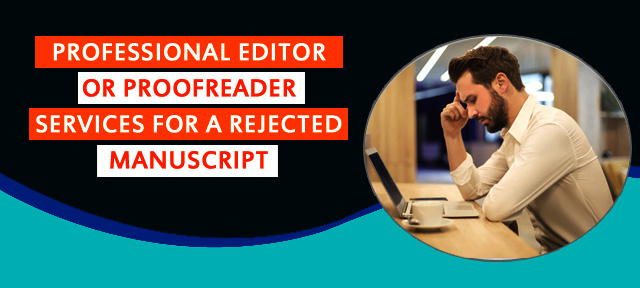 Rejection of a manuscript by a journal is always a disappointment. However, every author faces this challenge and it is part of one's academic profession to face journal rejection. The real secret to success is to improve upon the manuscript till it is good enough for publication.
Today, the author has the option of resorting to several professional proofreaders and editors who help authors get their manuscripts accepted by journals. It is advisable to resort to such professional services as they offer great value.

Here are some issues with journal rejections that professional help can really work wonders with:
The kind of help an author requires really depends on the kind of revisions required by the journal. Busy scholars usually recruit research assistants to edit and reshape certain aspects of a document's content, while the revisions to the core content usually demand the author's attention. Academics and scientists usually seek help from professionals for language issues and adherence to publisher guidelines.
While engaging with a professional editor or proofreader, it is important to share the peer review comments for rejection. While the technical aspects of the comments have to be dealt with by the author, there is a lot of areas in which professional editors can help with editing. For instance, while the author may work on the main content of the article, professional help can be used for developing the abstracts, executive summary, covering letter, which makes the entire submission a complete package.
Word limit is often a major roadblock for authors. Trying to articulate one's message succinctly in limited words is an art by itself. The biggest contribution by professional editing services is helping better articulate oneself, in easily comprehensible language that is both easy to read and adhered to word limits.
Often, manuscripts are rejected by acquisitions editors because of language problems like grammatical errors, mistakes in spelling and punctuation, confusing phrases or failure to observe consistent usage patterns. Often authors are so engrossed in their own thought process while writing that they fail to take the reader's perspective into consideration. A professional proofreader essentially brings in a third person's perspective. They can help the author communicate to their readers by clearing these grammatical cobwebs.
Formatting, or following publisher guidelines is another major challenge for authors. Professional editors specializing in the subject publications are well versed with the requirements of journals and often know the specifics of each journal better than the authors. Thus, while an author would personally have to first read instructions and then try to shape a manuscript as per requirements, the professional editors can start-off with the perspective of the journal editor.
In particular, citations and references guidelines, which are often most challenging for authors, are standard fare for most proofreaders and editors. While authors may find the different instructions to be confusing, for professional proofreaders and editors it is their bread and butter and therefore they are most comfortable handling these complexities.
Views : 649