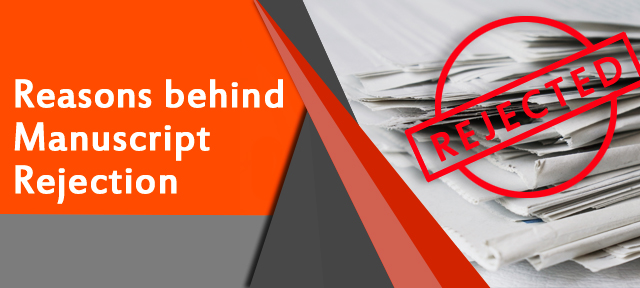 Background
Rejections are the rule rather than the exception in the world of journal publishing. Of course, there are a variety of reasons why a manuscript might not be accepted for publication. However, researchers should be aware that many circumstances beyond their control might influence the outcome of their submissions—and these factors don't always boil down to the quality of the research, but rather to the manuscript's readiness for publishing.
For various reasons, a percentage of articles submitted to scientific journals are rejected. Editors, reviewers, and potential authors will benefit from a comprehensive examination of the cause of refusal. Out-dated techniques and below-par written submissions were common causes for rejection.
Key reasons for manuscript rejection
The causes of denial varied based on where the article cycle is in the process. Depending on the stages of manuscript screening, authors face rejections. There are mainly 3 stages where a manuscript can be rejected in the journal:
Desk rejection (without peer reviewing)
Rejection after peer review
Rejection after editorial re-review
Desk rejection
Documents frequently got rejected prior to the peer-review process. This is due to the fact that the manuscripts were out of scope or lacked adequate innovation and originality. The primary qualities that a scientific journal editor emphasizes the most are novelty and non-obviousness. Furthermore, publishing an out-of-date work when newer methodologies are already accessible has little or no scientific merit. Manuscripts failing in the above criteria are rejected from the journal in this initial stage. In this type of rejection, authors usually do not get any revision comments from the journal.
To avoid desk rejection, the authors must follow the Aim and Scope section on the journal homepage and submit their manuscript accordingly.
Rejections after peer-review and after the editorial re-review stage
Both of the refusals are due to unsuitable study strategies, poor methodological explanations, low writing quality, and weak study rationale as the most general causes for rejection. In this type of rejection, authors usually get some points to revise the manuscript either from the reviewers or from the journal editors.
Final thoughts
Editors prefer manuscripts that follow the journal's formatting guidelines since they are easier to evaluate for scientific quality and save time for copy editing in the journal (and money). On most journals' websites, there is a 'Guide for Authors' section with detailed guidelines for the formatting of the article and the presentation of the document components. In addition, a well-written cover letter clearly explains that the article is relevant and of interest to the journal's readership, that it is not under consideration by any other journal, and that it is not under consideration by any other journal. To evade rejection and develop the paper's prospects of publishing, prospective writers have to pay close attention to the conceptualization, design, and presentation of their study, in addition to picking an acceptable journal.