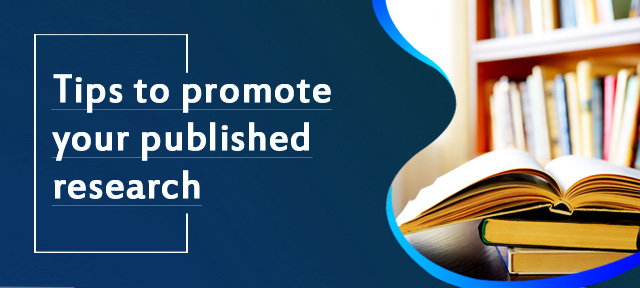 Congratulations on getting your article published! Because there is so much published research data now, it is more difficult for your target audience to find your academic research. Promoting your research has therefore become very important. You may now advertise your work by sharing it with colleagues, the media, and the general public. This can help you take the next step with your study by gaining funding and collaborators.
Sharing your publication in various platforms
In terms of supporting the interchange of scientific knowledge in your field and allowing your work to contribute to wider scientific development, sharing and promoting your article is a vital element of research.
Your Share Link can be shared with colleagues, friends, and family, and used to promote your content via email and social media. Anyone who clicks on your Share Link within the next 50 days will be taken straight to the article, with no need to sign up or register. The standard access rules apply after the free access period has ended.
The conference presentation will also help
Presenting and networking give your work a face and a voice, and they might lead to new partnership opportunities. It's also a good idea to make a presentation that can be published to SlideShare, as you'll be using it during the conferences anyhow. A picture is worth a thousand words, after all.
Make online presence valuable
By keeping the social media profiles and contact information updated and engaging with your profile on ResearchGate, Academia.edu, Google Scholar, Loop, Mendeley, we could promote the published work effectively. We can also get benefit from an active Twitter account. By posting our scientific opinions on Twitter we can get the maximum audience.
Preparing a lay summary
You can make it easier for folks who don't have an academic background to understand your findings by providing a simple summary. A lay summary is a non-technical summary of your article expressed in plain English. It can be used to explain your study, findings, and why they are important.
Blogging, vlogging, and podcasts
Science blogs have existed since the early 2000s, but in recent years, the 'microblogging' platform Twitter and other social media channels, which require less work to maintain than a comprehensive blog, have threatened to obliterate them. However, some scientists are continuing the practice, and it continues to play an important role in fostering collaborations, disseminating critical information, and developing scientific communities.
Other creative ways
You may now share your work with colleagues, the media, and the general public to promote it. This can assist you in moving forward with your research by assisting you in obtaining funds and partners. What do you think of poetry as a means of science communication? Scientists are committed to transforming research into poetry. Be inspired by the Three Minute Thesis competition (3MT) which goal is to have the best thesis presented to the lay audience in such a short time. These types of events, as well as other science festivals like Pint of Science, are a terrific opportunity to get the word out about your study and build your network. You can also submit your research paper to a TED talk conference or other innovative forms of communicating science, such as dance, cartoons, and comics.